About me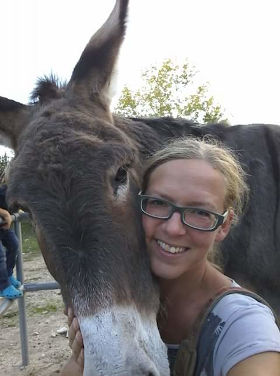 Katharina Fehring Kallivoka, german state‐approved social care worker / german state‐approved curative education teacher.
I was born and raised on a farm in the lovely region of Eastwestphalia in the middle west of Germany, part of the state of North Rhine‐Westphalia. As a child my siblings and me had lots of space to play and of course many four‐legged playmates. Barns full of pigs, several horses, the farm dog and the cats made sure it would never be boring.
Job related I chose a different lifestyle. First I became a German State‐Approved Social Care Worker and later on a German State‐Approved Curative Education Teacher.
When I moved to Greece in 2012 I couldn't work in my profession. The language difficulties and the different qualifications I needed made it very hard. What to do, was the main question. Back to the roots was the answer.
It was a childhoods dream to have a donkey. Since 2013 me and my donkey ladies are running the Donkey Trekking Kefalonia.
In addition to my mother tongue German, I speak fluent English and Greek.
Curriculum vitae
2001–2002
Voluntary social year at Charitable Living Rooms and Workshops GmbH Calw
2003–2006
Education to state approved social care worker
at Ludwig‐Schlaich‐Academy of the Diakonie Stetten Waiblingen
2006–2007
Work at Individualhilfe Keesburger nursing service Würzburg, elderly people day care Schneider Sindelfingen
2007–2009
Education to state approved curative education teacher at Institute for Social Professions Ravensburg,
Charitable Disabled Support St. Jacobus – Children's Home St. Johann Zußdorf/Wilhelmsdorf
2009–2012
Catholic youth welfare Munich – Clemens Maria children's home Putzbrunn
2012
Move to Greece
2013
Opening of Donkey Trekking Kefalonia