Welcome to Donkey Trekking Kefalonia
Not longer then 50 years ago you would have found a donkey on every corner of Kefalonia. Used for work up in the mountains, carrying wood, hay, and olives into the villages or grain to the mills. Along with the modernisation in agricultural and forestry the donkeys started to disappear.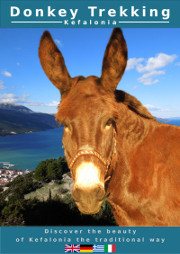 Well known for their calm temper, their amazing social skills and the fact that they are very sure footed in every terrain, donkeys are perfect companions for short walks or longer hikes. Donkeys are no fast runners. They will slow you down and give you the chance to enjoy the nature you are surrounded by.
Take your chance and get of the beaten path. Together with my donkey ladies Grisella, Wiolätta, Dixie and Louise you can discover the beauty and rich history of Kefalonia the traditional way. Enjoy amazing views over the bay of Sami, evergreen valleys of the area and dive into the history of the island.
No matter if you are 2 years old or 99! Water bottles, supplies and tired little legs will be carried by the donkeys.
Please note: Donkeys shouldn't carry more than 20% of their own bodyweight. To make sure that my donkeys are staying healthy everybody with a bodyweight up to 8 stones (50kg) is welcome for a donkey ride.
Opening Hours
Open all year. From april until the end of october you can meet us at the stable from monday till friday between 9.00–12.00 a.m. and between 6.00–8.00 p.m.; or book your tour via phone, text message, Whatsapp, Telegram, Viber, e‐mail or on our Facebook page.
From november until end of march please make an appointment via phone, text message, Whatsapp, Telegram, e‐mail or on our Facebook page.